projects
Key Lake South
The Key Lake South Uranium Project (KLS) is located approximately 15 kilometres south of the Key Lake mill which processes ore from Cameco Corp.'s (TSX: CCO; NYSE: CCJ) McArthur River uranium mine.
Provincial Highway 914, a north-south all-weather highway in Saskatchewan, crosses the project, providing ideal access. The project consists of 12 contiguous claims (23,977 hectares or approximately 240 sq. km) which were staked during 2011 to 2012 and have been held and explored by a private company ("SaskCo") until the end of 2022. The project was then transferred to Abasca Resources Inc. by reverse takeover of a TSX Venture listed corporation and is 100%-owned.
The KLS Uranium Project is underlain by the prospective uranium hosting rocks of the Wollaston-Mudjatik contacting zone (WMCZ) in the southeastern Athabasca Basin. The world's largest high-grade uranium deposits are associated with the unconformity between the Athabasca Basin and the Wollaston-Mudjatik basement. Most of the uranium occurrences and deposits associated with the Athabasca Basin are located near the boundary between the Mudjatik and Wollaston domains as either unconformity-related or basement-hosted type. The KLS Uranium Project is located in the southern strike extent of these deposits and in the same regional magnetic low structure that hosts them. Alteration at the KLS Uranium Project shows characteristics of both unconformity-type and basement-hosted deposits.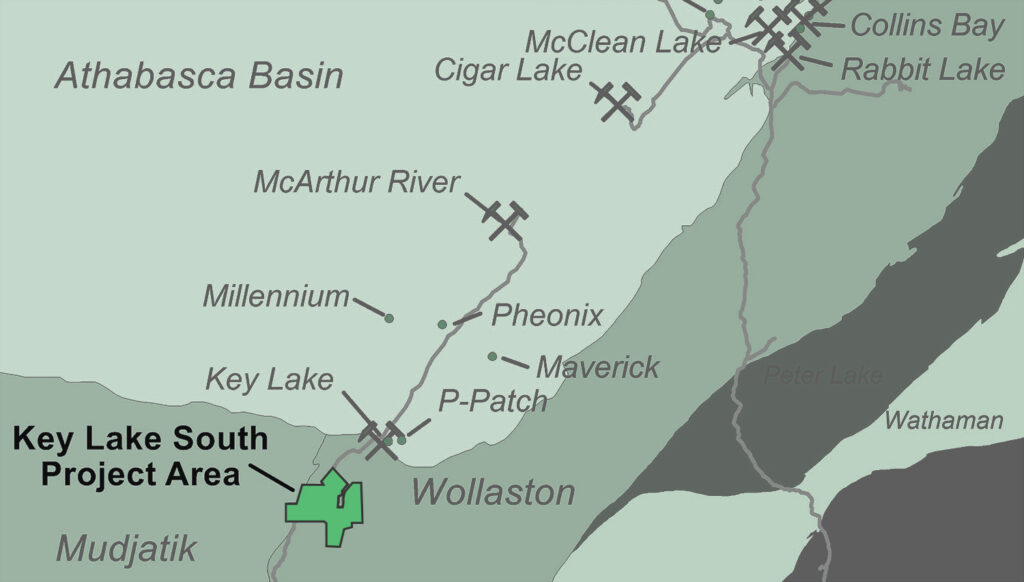 Highlights
21,678
Total Meters Drilled
recent exploration
In April 2023, Abasca completed its winter drill program at KLS. A total of 11 holes were drilled, totalling 4,959 metres at the Mustang target area. Geochemical assays confirmed anomalous uranium intersections whereby 9 of the 11 drillholes intersected anomalous uranium over a cumulative total core length of 13.85 m. KLS-23-004 intersected a total of 1.5 m of anomalous uranium, including 10 cm at 1260 ppm U and KLS-23-006 intersected a total of 3.4 m of anomalous uranium, including 79 cm at 897 ppm U and 43 cm at 942 ppm U. KLS-23-009 intersected a total of 2.4 m of anomalous uranium, including 50 cm at 1010 ppm U.
The 2023 drilling at the Mustang target area intersected multiple stacked graphic fault zones intersected at major lithological contacts with overprinting fracture zones, fault gouge, and fault breccia – ideal features in other basement-hosted uranium deposits in the Athabasca Basin region. The drill program also confirmed anomalous uranium intersections located proximal to graphitic fault zones that are also elevated in pathfinder elements including up to 3540 ppm B, 267 ppm Ce, 350 ppm Cu, and 381 ppm V. Silicification, hematite and clay alteration observed in all drillholes within and proximal to fracture and fault zones. The identification of silicification, hematite, and clay alteration within reactivated fault zone systems and coincident anomalous pathfinder element geochemistry, including Boron, Cerium and Copper, is essential to the search for uranium deposits such as the Key Lake and Arrow uranium deposits of the Athabasca Basin of Saskatchewan.
project history
Considerable exploration activity by multiple operators has occurred on the KLS Uranium Project. Early regional exploration activities between the late 60s and throughout the 70s focused on ground prospecting, lake water geochemistry, and airborne radiometric and electromagnetic (EM) surveys as well as some shallow drilling. Although these early activities led to the discovery of the nearby Gaertner and Deilmann deposits that comprise Key Lake, no significant uranium mineralization was discovered over the current KLS Uranium Project area during that time. During the early 80s, anomalous radioactivity in pegmatites was discovered during ground prospecting surveys over the KLS Uranium Project area and shallow follow-up drilling was done during the mid-2000s with limited technical success.
SaskCo acquired ownership of the property through staking in 2011 and 2012. Various compilation reports and interpretations of historical data were undertaken by SaskCo, both in-house and by independent consultants, in 2011, 2012, and 2013, resulting in identifying target areas and recommendations for future exploration work. Field programs, including airborne and ground geophysical surveys, geological mapping, soil and lake sediment geochemical surveys, and radon-soil-surveys were conducted by SaskCo in 2014 and 2015.
In 2016, SaskCo carried out a diamond drilling program to test geological features interpreted by the previous exploration data, including the 2014 HeliFALCON Airborne Gravity Gradiometer survey, EM surveys, geochemistry surveys, and geological mapping. A total of 4,553 metres were drilled comprising 26 NQ holes in two target areas: 15 holes totalling 2,744 metres in the Campbell Creek area and 11 holes totalling 1,809 metres in the Mustang Ridge area where SaskCo discovered intersections of up to 0.25 U3O8% over 0.2. In 2022, Condor Consulting Inc. was engaged in further interpreting and modelling available geophysical survey data to assist with SaskCo's in-house technical team for structural analysis, target prioritizing, and detailed drillhole planning.
gallery